Affiliate Disclosure: Shopgala is supported by our audience. When you purchase through links on our site, we may earn a commission. Recommendations are made independently by Shopgala's editors and we never accept money from manufacturers to feature their products.
You fall into one of 2 categories; you spend hours sifting through coupons to save hundreds if not thousands of dollars a year, or you're like the other 99% of us and simply don't have the time nor the willpower to find that extra 10% off when you're buying a new pair of socks.
Now there is a solution for both groups - Capital One Shopping! This is a free browser extension that automatically finds ways to save you money while you shop online.
How does it do it? First and foremost, it searches through multiple coupon codes every time you go to checkout on any site, and instantly applies the biggest available coupon before you buy. What's more, this handy little extension will also give exclusive rewards while you shop that can be redeemed for gift cards. If that's not enough, it will even compare prices to other large retailers while you're shopping in case there is a better place to buy. The best part of all? You simply need to add it to your browser for it to work, you don't even need to be a Capital One customer – no logins, no credit cards, no hassle.
Keep reading to get the full review of Capital One Shopping, or if you want to try it out for yourself, click below.
Getting started is incredibly simple:
Make sure you have a compatible browser: Google Chrome, Mozilla Firefox, Microsoft Edge, or Safari
Add the extension
Enter your name, email address and zip code
create a shopping account – this will allow you to customize the app and claim deals at participating local stores if you want to link your card.
By far the best part of the browser is how easy it is to use. Whenever you're buying something online, it will automatically start working to apply coupon codes, check other sellers for lower prices and notify you, and reward you for the purchase. It will help you out when you're shopping and won't make a sound when you're not.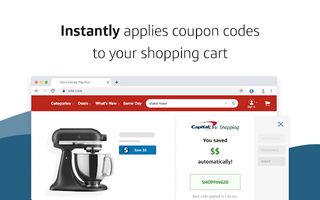 Let's dig into the actual features. Arguably the most useful feature is the automatic coupon codes. The extension is already incredibly popular, boasting millions of users, and makes use of both publicly available coupon codes as well as crowd-sourced coupons users have found and successfully applied. As soon as you reach check-out a helpful little pop-up will appear and start applying all the coupons it's found to see which one, if any, will save you the most money. If it finds one, you can enjoy the instant savings without the hassle of researching and testing different code. If not, you can rest easy knowing you're almost certainly getting the best deal.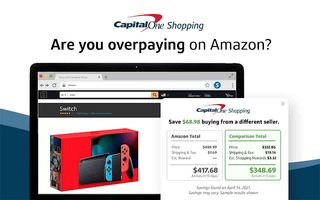 Next up is price comparison tool. Once again, this is automatically applied when you shop for a product. After scanning a vast database of retailers and individual sellers, the pop-up will appear and let you know about any seller offering a better price for the same product, and even include a link to the new seller. Wondering why you needed to include your zip code when you add the extension? Capital One Shopping will even factor in shipping times and delivery costs when making the price comparisons. You can also add that you're an Amazon Prime member and let it factor that into the cost as well.
Finally, lets discuss the reward points. You will automatically earn reward points (Capital One Shopping Credits) when you buy online. These reward points vary depending on the purchase and the retailer you buy from. You can even get reward points from participating local businesses if you created an account and linked your card. When you've built up enough points you can cash them out for a wide variety of gift card.
Capital One Shopping provides a lot of useful features, and it is completely free, so what's the catch? The first thing to note, it only works on desktop browsers. If you're using your phone a lot for online shopping, there is a mobile app you can download, but the features are a lot more limited and you cannot make purchases directly. Secondly, you do not have the option to trade in reward points for Amazon or Target gift cards. The selection of available gift cards is pretty large, but some users have noted this was an annoyance. Finally, like all extensions and apps these days, it is tracking certain data while in operation. Most of this data is stored anonymously in aggregate form to analyze how people are using the platform and improve its functionality. Capital One also states very clearly that they never sell user data. That being said, it's always good to be aware who you share your personal data with.
Pros
Very easy to add to your web browser

Coupons, price comparisons and reward points all applied automatically

No need to interact with the extension while using the internet for it to work
Cons
Shopping credits cannot be exchanged for amazon or target gift cards

Browser extension does not work on mobile device
Could you use a helping hand to save you some extra money next time you shop online? CapitalOne Shopping users certainly think so, this helpful little extension found customers more than $160 million in savings last year alone!